Lot 18 Bella
Prefer Ms Tari Ranch Horse
Gray Mare, April 15, 2008 AQHA
This gray mare is pretty amazing when you are working cattle. She rates really well and knows her distance. This mare has so much go she can be intimidating, but she does not have a mean bone in her body. She's just in a hurry to get the job done. Bella has good conformation and a keen head, she's been to town and the people who have seen her, liked her. She is one that should be fun to watch in the future and look at the papers on her.
DOC TARI
SR DOCTOR TARI
GAYTANI
TOTALLY HOT TARI
HE'S TOTALLY HOT
TOTALLY KATE
QUICK MISS KATE
---
DASH FOR CASH
PREFERRED PAY
FANCY THREE
AMBERS PAY
SUGAR TRIX LEO
AMBER TRIX
TEE J AMBER

Lot 19 Ruby
Red Mountain Breeze Ranch Horse
Sorrel Mare, 2008 Unregistered
This is a mare that knows what is going on; she has been here before. Ruby's been to plenty of brandings and knows how to handle a rope. She has sorted cattle, moved cattle, held cattle, maybe even counted cattle…you get the idea. She's not real big but makes up for it with determination. She can cover country with the best of them; she doesn't slow down. Anyone who can saddle a horse can probably get along with Ruby. She will be a nice mare to own.
CLARK'S DOC BAR
MEADOWLARK CLARK
MEGGIN SUNSHINE
SUNNY TWO EYED DOC
THREE SOCK JACK
PEAKS TWO EYED BUNNY
GAMBLIN ROSE
---
RUSTY SPURS
ETERNAL RUST SPOTS
ETERNAL HELIO
ETERNAL BLACK BREEZE APHA
CANDY BREEZE
ST X TWISTY BREEZE
ALLISSA ANN

Lot 20 Charlie
Snappy Hot Dr Ranch Horse
Sorrel Stallion, April 28, 2008 AQHA
Quinn tells us, "Charlie can trot a lot of country, gather and move cows and still have a quick step back home when the job is done… no matter how long the day has been". He has been roped on outside and a little in the arena chasing steers. This is a gelding that is good to haul and shoe; trustworthy and loyal. He extremely cowy; just set your hand down and he'll go to work. He is very broke and as gentle as they come. Charlie's the kind that is hard to find, don't be afraid to own him.
CLARK'S DOC BAR
MEADOWLARK CLARK
MEGGIN SUNSHINE
SUNNY TWO EYED DOC
THREE SOCK JACK
PEAKS TWO EYED BUNNY
GAMBLIN ROSE
---
ZIPPO PATSNAP
DR ZANNASNAP
MS ZANNA
MS HOTSHOT DR
HOTSHOT DON
FIRE SAND
COLENE REED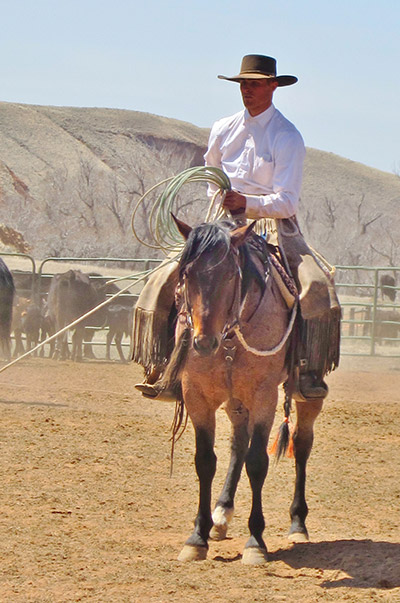 Lot 23 Chet Johnson
GO Smooth Lowry 4-year-old
Bay Roan Gelding, May 8, 2009 AQHA
This is a nice looking gelding with that ranch roan hide. He has been roped off of "a lot". Quinn says he's fun to ride in the feedlot sorting cattle and he has seen about every pasture on the place. He is gentle and in time will probably be a kid's type horse. He's easy to haul and has been to several outside ropings. He will run to cattle and should be a nice gelding for anyone. How many four- year- olds can you say all that about?
PC STALLONE
PAPS DRIFTWOOD CODY
BARBEDAHLEO
SMOOTH JET SUN
YELLOW CAKE USE
SHANNA KAY
SHANNAH MAY
---
LOWRY STAR
LOWRY TWISTER
ROSE TWISTER
LOWRY RED LEO
COZZEN JOE LEO
MISS FARRAH
MISS RONDIE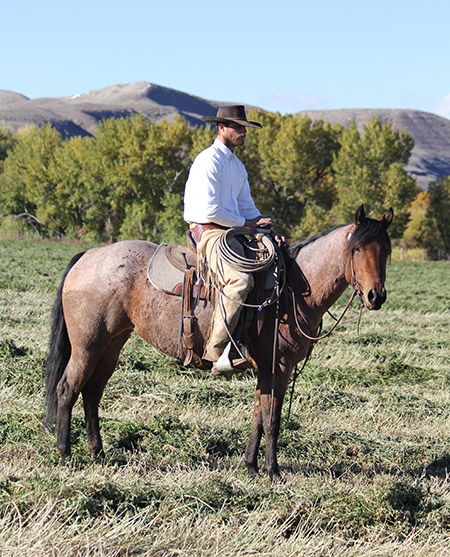 Lot 28 Molly
GO Smooth Tari Breeze 4-Year-Old
Bay Roan Filly, 2009 AQHA
That roan hide is sure nice to look at; and the mare that wears it is just as nice. This is a horse that anyone can get along with, on her resume it would say " been there; done that". She can do every job on the ranch. She's been used to rope and brand, she's sorted calves, cows and horses. She worked the feedlot and has been on some long circles. Molly is out of a daughter of a Doc Tari bred mare with a shot of Sun Frost on top.
PC STALLONE
PAPS DRIFTWOOD CODY
BARBEDAHLEO
SMOOTH JET SUN
YELLOW CAKE USE
SHANNA KAY
SHANNAH MAY
---
DOC TARI
SR DOCTOR TARI
GAYTANI
TARIS LEO BREEZE
CANDY BREEZE
ST XAVIER BREEZE
BRANDING FIRE LITE

Lot 30 Shoshoni
Shoshoni Special Ranch Horse
Bay Roan Mare AQHA
We bought this mare as a weaning colt at a FFA auction. She has grown up to be a big, gentle
mare who can hold her own with the geldings. She was so big as a two-year-old at the barn they thought she was three. She has been ridden many miles and will just get better with age. Shoshoni stands on plenty of bone and should last for years. If you are big enough to throw a saddle on this stout mare; you will probably be able to get along with her. That ranch roan hide doesn't hurt her future in the broodmare band if that's what you want in another 10 years.

Lot 31 Chrissy
SS Chrystal Dunn Dee Ranch Horse
Red Dun Mare, April 12, 2001 AQHA 4128401
This was Scotlyn step-up horse. Scotty used her for everything. She's been in rodeos, playdays and fairs. She used her for Queen competitions and she has been in parades. Chrissy has had many, many miles behind cattle and after rabbits and horny toads. Before we owned her they did some ranch horse competitions on her. You can ride her bareback and she has been shown in both Western and English. Chrissy is a nice colored red dun and we have really enjoyed having her, but Scotlyn has moved up to a younger horse and needs to spend her time there. This is a chance for someone to get a nice horse that everyone could enjoy.
BAR MONEY
MIGHTY BAR MONEY
CUTE STAR BAILEY
TONTOS MONEY
IMPERIAL WIN
IMPERIAL WHIRL
WHIRL AWAY TIME
---
STAGE BIRD TOM
STAGE BIRD MIKE
WYTRO CUPIE DOLL
DEJAYS LITTLE SUNNY
SUNNYS SUPER STAR
MITTS SUNNY
MITTS COTCHA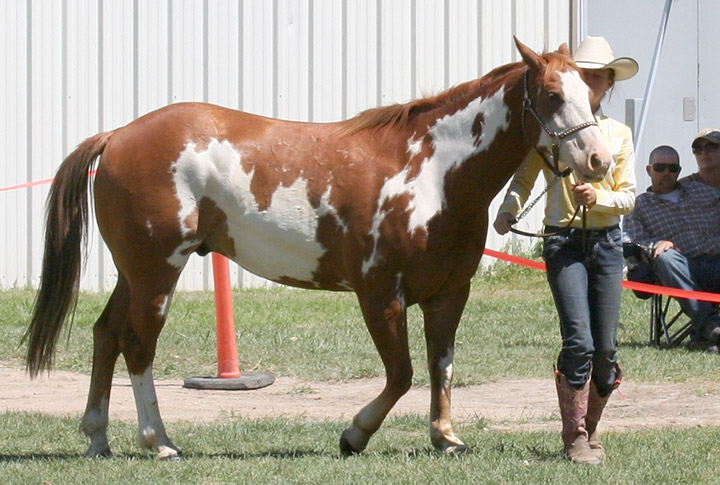 Lot 32 Pinky
Pinky Ranch Pony
Sorrel Paint Gelding QH Type Pony
Scotty has ridden this pony the last few years. He's really a pretty little paint gelding, built more like a horse than pony. He can walk out with any of the big horses and likes to cover the country. Scotty has used him behind cows, for fun days, fairs, parades and at some kid's rodeos. He is best when competing in the arena with kids who know how to ride and don't let him get away with things. He's just big enough to earn his keep on the ranch. We have never roped on him but I don't think it would take much to teach him. He would be a fun step-up horse for a kid who can ride or a nice trail horse for the family.